5. Soy Wax Melts
These are 100% Soy Wax melts to use in your tart burners. They work great in any electric or tea light burner. Six break-away tarts per package.

Scent Descriptions
Blood Orange & Chili Pepper- A sassy, saucy combination of Blood Orange, Sparkling Bergamot, Tangerine Zest, Tart Cassis, Orange Juice, Neroli, Ground Pepper, Fiery Chili Pepper, and Sheer Musk.

Beach Bonfire- A fragrance reminiscent of gentle, beach breezes and bonfires, with notes of dried, wind-blown leaves, heliotrope, charred woods of pine and cedar, amber, smoky sandalwood, and musk with a background containing hints of roasted marshmallows, brown sugar and soft vanilla.
Brown Eyed Girl- Brown Sugar, Cotton Candy and plenty of Vanilla
Citrus & Myrrh- Italian Bergamot, Clove and Orange Peel combine with smoky myrrh and a touch of frankincense. Cedarwood and sandalwood round out the bottom notes.

Coconut Hibiscus- Light floral notes of hibiscus, violet, and peony are blended on a base of creamy vanilla and sweet coconut to create this fruit-floral blend.
Country Cottage- Spicy, sweet, and complex. Vanilla intertwines with a spice cabinet of cinnamon, clove, allspice, kissed with sugar. Hints of nutmeg and fruits peek out from the heart notes.
DreamWeaver- Soft, Relaxing
Fire & Rain- An exotic fragrance with citrus top notes of bergamot surrounded with nuances of freshly ground ginger combined with notes of sandalwood, cedar, Indian patchouli, and sweet basil.
Ginger Lime-  A bright and zesty lemon-lime blend combined with the warm and comforting notes of honeyed ginger for a sophisticated twist on a refreshingly clean combinatio
Ice Ice Baby-  The invigorating herbal blend of eucalyptus and spearmint with fresh citrus lemon, lavender flowers, and a hint of sage
Lemon Verbena-  Fresh, zesty lemony.
Magic Carpet Ride- Nag Champa- This wonderful fragrance has the aroma of incense; patchouli, sandalwood, and dragon's blood working together to create this wonderful.
Monkey Farts-  Fresh bananas and juicy grapefruit, middle notes of kiwi, juicy bubblegum, and strawberries; and a hint of vanilla as a base note.
Moon Shadow-  An exotic blend of teakwood surrounded by rich spices of cardamom, cinnamon, and clove; sitting on base notes of cedar, amber, sandalwood, and patchouli.
Nights in White Satin- The beautiful combination of luscious, rich vanilla, earthy Indian sandalwood and amber.

Pearberry- A fruity fresh fragrance blend of ripened pear, raspberries, strawberries, and gooseberries, with slight musk undertones.
Plumeria- a sweet, fruity floral aroma composed of tropical plumeria flowers, fresh fruity top notes, on a lovely green bottom
Pretty Woman- Base notes of white carnation and blood orange are the perfect foil for heart notes of sandalwood, black rose, smoky wood, and a kiss of patchouli. The top notes give a hint of toasted vanilla bean and whiffs of vetiver, amber, and the tiniest touch of Egyptian musk for a smoky, sexy finish
Tobacco Road-  Tobacco, cedarwood, spicy accents with earthy tones of patchouli and a hint of rich leather create a masculine rustic scent..
Tahitian Gardenia- The Tiare flower is also known as Tahitian Gardenia.  This flower is used to make lei necklaces; a fragrance which is delicate and memorable.  A beautiful blend of Tahitian gardenia, bergamot, lavender flowers, and white musk.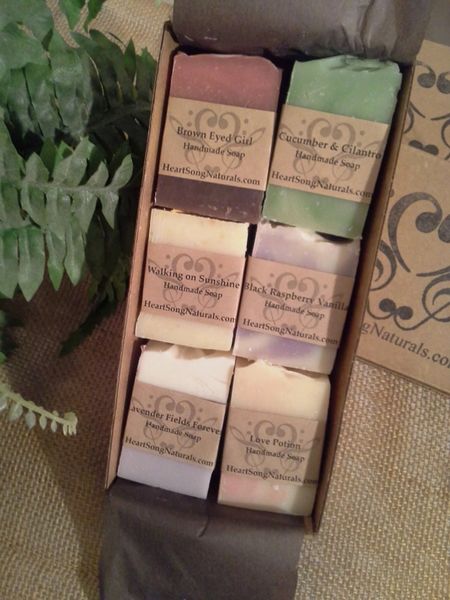 Handmade Soap Gift Box